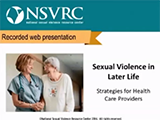 (57 min) In this recorded web presentation, Jennifer Pierce-Weeks, RN, SANE-A, SANE-P, discusses the ways in which health care professionals can recognize and effectively respond to sexual violence against older adults.  This presentation is based on the publication Sexual Violence in Later Life: A Technical Assistance Guide for Health Care Providers.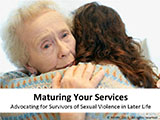 (~1 hour) This interactive online course is designed to increase advocates' and other victim service professionals' capacity for serving victims of sexual violence in later life. Considerations for serving older adult victims are explored in three sections--social, physical, and emotional factors-- with opportunities to practice and reflect upon the information.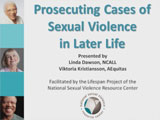 (~1 hr, 22 min)  Misconceptions about older adults and aging can make cases of sexual assault later in life difficult to prosecute. This recorded webinar guides criminal justice professionals in understanding not only the unique realities of aging and elder abuse but also how to contest stereotypes used to cast doubt on testimony.