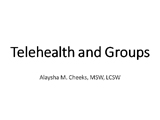 (40 minutes) In the webinar, Telecounseling and Groups, viewers will learn ways to facilitate groups and build engagement through the use of videoconferencing.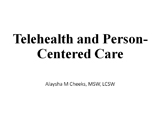 (45 Minutes) In the webinar, Person-Centered Telecounseling, viewers will learn about how utilize trauma-informed and person-centered approaches to adapt in-person counseling skills to the virtual environment.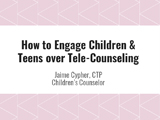 (1 Hour) Jaime Cypher, Certified Trauma Professional and Children's Counselor at VOICE in Butler County, PA shares her knowledge on how to better engage children and teens over video counseling and the challenges that come with the virtual counseling environment. Jaime discusses how to create and maintain safe spaces for counseling outside the office, virtual activities and resources to help foster engagement, and other trainings to help bolster a counselor's repertoire to stay relevant in this more virtual counseling work space.